CLASS DESCRIPTIONS
Kids can learn how to play and build Video Games, Robots, Computers and Combustion Engines with one of our fun and educational classes!


Minecraft Essentials (all ages welcome)
Offered at Reed Elementary in Ladue school district
Call for other options 314-610-4862
Learn all the in and outs of Minecraft from a Master. Weekly classes at Chesterfield Mall - Neutral Zone on Saturdays - when classes form
---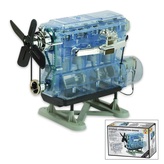 Engine Explorers (Grades 2-8)

Build a real 3D model that students get to take home when they are finished. They will learn the components of an internal combustion engine and how the components work together.

Offered at Devine Performing Arts


---
---
Engineering Innovators (Grades 1-2 and 3-6)

Students learn about the different areas of engineering including, but not
limited to mechanical, aeronautical, and civil engineering. Students build
engineering projects like a sailboat, a watering system, a nut sorter and more! Students will be divided into age groups of grade 1-2 and grades 3-5 to provide the most specialized fun and learning possible. Start your future today!

---
Build your own Internal Combustion engine! (Grades 2-8)

Students will build a working model of a 4-stroke internal combustion engine. You won't believe how cool this is! The model provides a window to the engine's internal working components, including pistons, cranks, valves, cams, lifters, and ignition.
During assembly students learn how the design of each component contributes to
the final product. Again, you won't believe how cool this is!
---
Building Arduino Microprocessors (Grades 5-8)

Discover and build a real microprocessor!
Have you ever wondered how a computer works? Have you ever wanted to build your own? This is the opportunity for you. Using the latest technology available, we will build and use microprocessors with arduinos. We will be working with LEDs, jumpers, and resistors. We will learn about digital pins, Ohms law, Pulse Width Modulation and more. Don't be afraid to give this class a try and see if your future could be in building and design micro-computers (chips) for today and tomorrow.

---